IT'S NOT HOW HARD YOU SWING, BUT HOW WELL YOU SWING!
The Swing Speed Radar® is a small, affordable microwave Doppler radar velocity sensor that measures the racket swing speed of tennis players.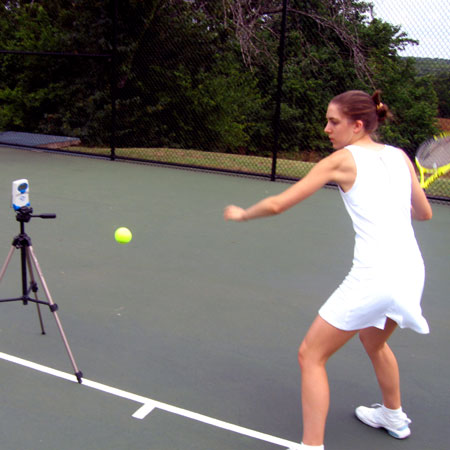 Tennis players can improve swing speed and consistency for both their serve and ground strokes.
Use of our Swing Speed Radar® for tennis has been pioneered by noted tennis and golf instructor Kelvin Miyahira. Kelvin is also a columnist for the publication "Around Hawaii" and has a wealth of information for golfers and tennis players. He can be reached at hyga@lokahi.com
Joe Dinoffer of OnCourt-OffCourt has incorporated the Swing Speed Radar® as an important tool in his tennis teaching curiculum Joe has a tennis newsletter entitled "Cup of Joe". He discusses the use of our Swing Speed Radar® to help develop proper strokes, and in particular, gaining racquet-head speed. Joe sells our Swing Speed Radar® and has written instructions regarding drills and techniques for improving a player's swing. Please contact Joe for a copy of his copyrighted tennis training literature. He can be reached at 214-823-3078.